Indiana Grease Exhaust and Hood Cleaning
Kitchen grease exhaust and hood cleaning, commonly referred to as hood cleaning, is the process of removing grease buildup that has accumulated within the system including the hood, filters, duct and fan.  If all components of the grease exhaust and hood system are not properly cleaned at the correct frequency according to the NFPA 96 standard, the system could become an extreme fire hazard.
At Whitlock's Pressure Wash our team has worked hard to create and implement the highest standard in Indiana and Ohio grease exhaust and hood cleaning.  Our technicians are the most knowledgeable, experienced and professional guys in the business.  Our team will go the extra mile to ensure every area of your system is accessible, safe and compliant with NFPA 96.  With Whitlock's Pressure Wash protecting your facility, you will always have peace of mind.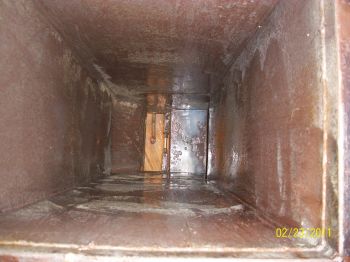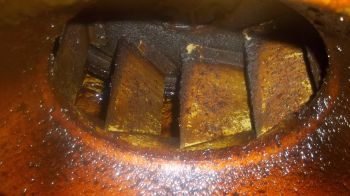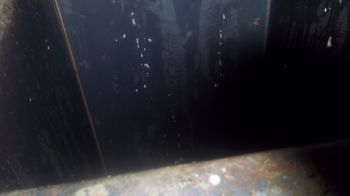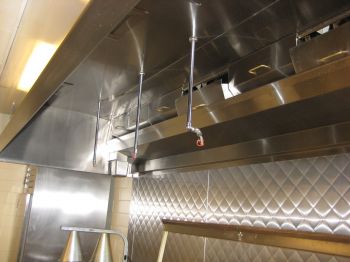 Prev
Next
Table 11.4 NFPA 96 Standard
Schedule of Inspection for Grease Buildup
| | |
| --- | --- |
| Type or Volume of Cooking | Inspection Frequency |
| Systems serving solid fuel cooking operations | Monthly |
| Systems serving high-volume cooking operations, such as 24-hour cooking, charbroiling, or wok cooking | Quarterly |
| Systems serving moderate-volume cooking operations | Semiannually |
| Systems serving low-volume cooking operations, such as churches, day camps, season businesses, or senior centers | Annually |
What we offer:

Who we service:

Free quote to service your facility
High pressure, high temperature cleaning of fans, ducts, hoods and filters
Hoods are degreased and polished
Filter sales and exchange – custom sizes available
Access panel sales and installation – custom sizes available
Exhaust fan hinge kit sales and installation
Before and after photos
The most knowledgeable, experienced and professional team in the business
And much more…

Restaurants

Hospitals
Universities and Colleges
Fraternities and Sororities
School Districts
Airports
Churches
Nursing and Assisted Living Homes
And many more…